COLLAMEDIC collagen powder 5000 mg – 30 sachets
Marine bioactive collagen drink 5000 mg in a daily dose. It effectively smoothes wrinkles and strengthens hair and nails. GIFT: Vitamin C, 30 capsules
Sachets containing COLLAMEDIC® premium bioactive marine collagen provide users with the best quality of collagen for skin. The collagen peptide content in a single dose (5000 mg) makes COLLAMEDIC® bioactive marine collagen powder one of the strongest products on the Czech market. An effective dose of bioactive marine collagen peptides provides skin flexibility, hair shine, eyelash density and nails strength.
Description
COLLAMEDIC® bioactive marine collagen is a natural supplement to a diet with high marine collagen content that provides users with the best quality in skin care. The collagen peptide content in a single dose (5000 mg) makes COLLAMEDIC® bioactive marine collagen powder the strongest product on the Czech market. The source of collagen for all COLLAMEDIC® products is exclusively wild fish from Norway.
Collagen is the most represented protein in our body. However, starting from the age of 25, its production in the human body is declining and this is reflected mainly in the quality of skin, hair, and nails. After 40 years of age, the collagen production stops completely. The ideal solution is to replace the decline of the body's own collagen with food supplements containing marine collagen peptides. The daily dose of COLLAMEDIC® powder collagen contains 5000 mg of marine collagen peptides. Extensive clinical trials resulted in improvements in skin condition from the perspective of hydration by 34.8%.
Especially marine collagen has proved to be the ideal source of collagen peptides. According to the research so far, sea fish collagen is the closest building protein to our body. Our body can process it ideally and transport it exactly where it is short of it. The specific collagen type of COLLAMEDIC® has a very low molecular weight, resulting in rapid and easy absorption at places where the skin loses flexibility, hydration and elasticity. This slows the aging process, smoothes fine wrinkles and skin.
Marine collagen COLLAMEDIC® is exclusively a natural product without added preservatives or flavouring agents. It is suitable for a paleo diet and it is gluten-free.
With each COLLAMEDIC® package, you get a free monthly dose of  Vitamin C 500 mg gradually dissolving cure worth 119 CZK. Vitamin C plays an important role in the development of the body's own collagen. Thanks to using COLLAMEDIC® booster capsules manufactured with special microporous technology, the body is supplied with vitamin C continuously and uses it more efficiently.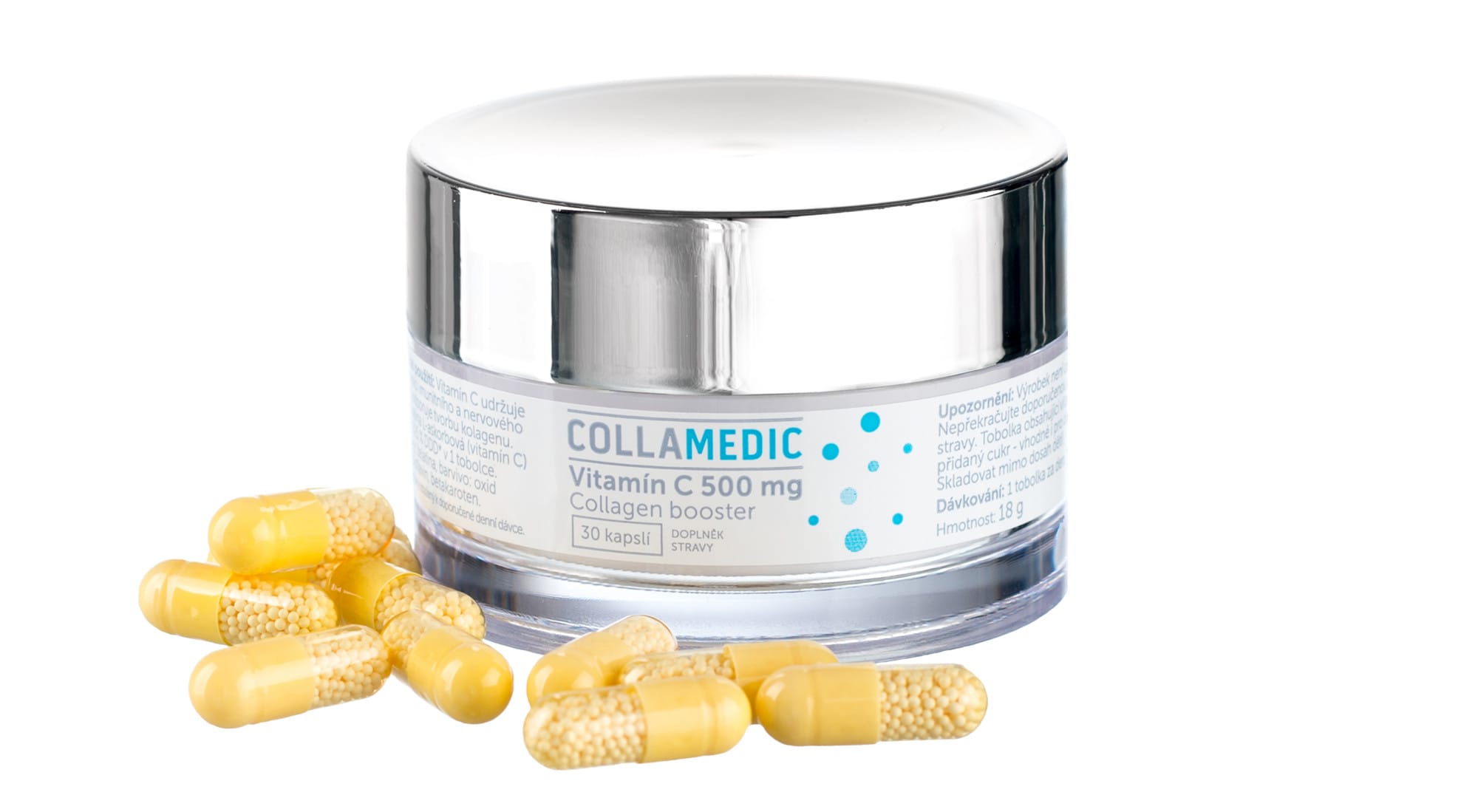 Why is it the COLLAMEDIC® bioactive marine collagen?
COLLAMEDIC® marine collagen is a pure natural product without added preservatives, flavourings and colours. The source of collagen is the crystal clear waters of the North Atlantic Ocean (Norwegian region). Fishing there takes place under strict rules of sustainable development. The product is GMO free (i.e. it does not contain any genetically modified organisms), and its production comes after the use of fish for the food industry. This is a very sensitive environmental approach.
Dosage and use
The human body is capable of restoring about 1 % of collagen reserves a day. Therefore, the use of collagen in skin, hair and nails will take effect after several weeks. We recommend a three-month cure as the best option. We also offer cost-effective kits where you can get the food supplements with free outer skin care cosmetics.
Empty the contents of one sachet (5000 mg of collagen peptides) into 2-3 dcl of drinking water or cold soft drinks while stirring. It is important to let the drink stand for 3-5 minutes to ensure that collagen is completely dissolved. Stir briefly before drinking. There is no timing for taking the drink.
We recommend using marine collagen sachets together with COLLAMEDIC® hyaluronic acid capsules to increase the effects of the collagen cure.
Ingredients
Hydrolysed marine type I, II, III collagen (fish product), 1 sachet contains 5000 mg of collagen.
Contents of the pack
Caution
This product is not intended as a substitute for a varied diet.
The product is not suitable for children under 3 years of age.
The product is not suitable for pregnant women (collagen is a body-beneficial protein of a natural origin. However, during pregnancy and breast-feeding, you should consult your doctor.)
Do not exceed the recommended daily dose.
Keep out of reach of children.
Store in a dry, dark place at 4-25 °C.
Protect the product from direct sunlight.
Content weight: 150 g (30 sachets).
Country of origin of raw material: Norway.