COLLAMEDIC hyaluronic acid capsules – 120 capsules
Collagen capsules with an extra strong dose of hyaluronic acid. Using capsules causes intense skin hydration and filling of fine wrinkles. GIFT: Vitamin C, 30 capsules
Capsules containing COLLAMEDIC® bioactive marine collagen and hyaluronic acid provide users with the best quality of collagen for skin. The combination of complementary substances produces significant skin softening and loss of wrinkles. The result is smooth and deeply hydrated skin.
Description
COLLAMEDIC® premium collagen capsules with hyaluronic acid is a natural supplement to a diet that contains high levels of marine collagen. The source of collagen for all COLLAMEDIC® products is exclusively wild fish from Norway. COLLAMEDIC® collagen capsules contain the patented ExceptionHYAL® Star hyaluronic acid. This formulation has been developed specifically for food supplements to improve tonality, hydration and skin elasticity. Clinical trials with ExceptionHYAL® Star have shown that the use of this substance reduces small wrinkles by 20.8 % and deep wrinkles by 21 %. Skin hydration improved by 9.6 %.
Collagen is the most represented protein in our body. However, starting from the age of 25, its production in the human body is declining and this is reflected mainly in the quality of skin, hair, and nails. After 40 years of age, the collagen production stops completely. The ideal solution is to replace the decline of the body's own collagen with food supplements containing marine collagen peptides.
With each COLLAMEDIC® package, you get a free monthly dose of  Vitamin C 500 mg gradually dissolving cure worth 119 CZK. Vitamin C plays an important role in the development of the body's own collagen. Thanks to using COLLAMEDIC® booster capsules manufactured with special microporous technology, the body is supplied with vitamin C continuously and uses it more efficiently.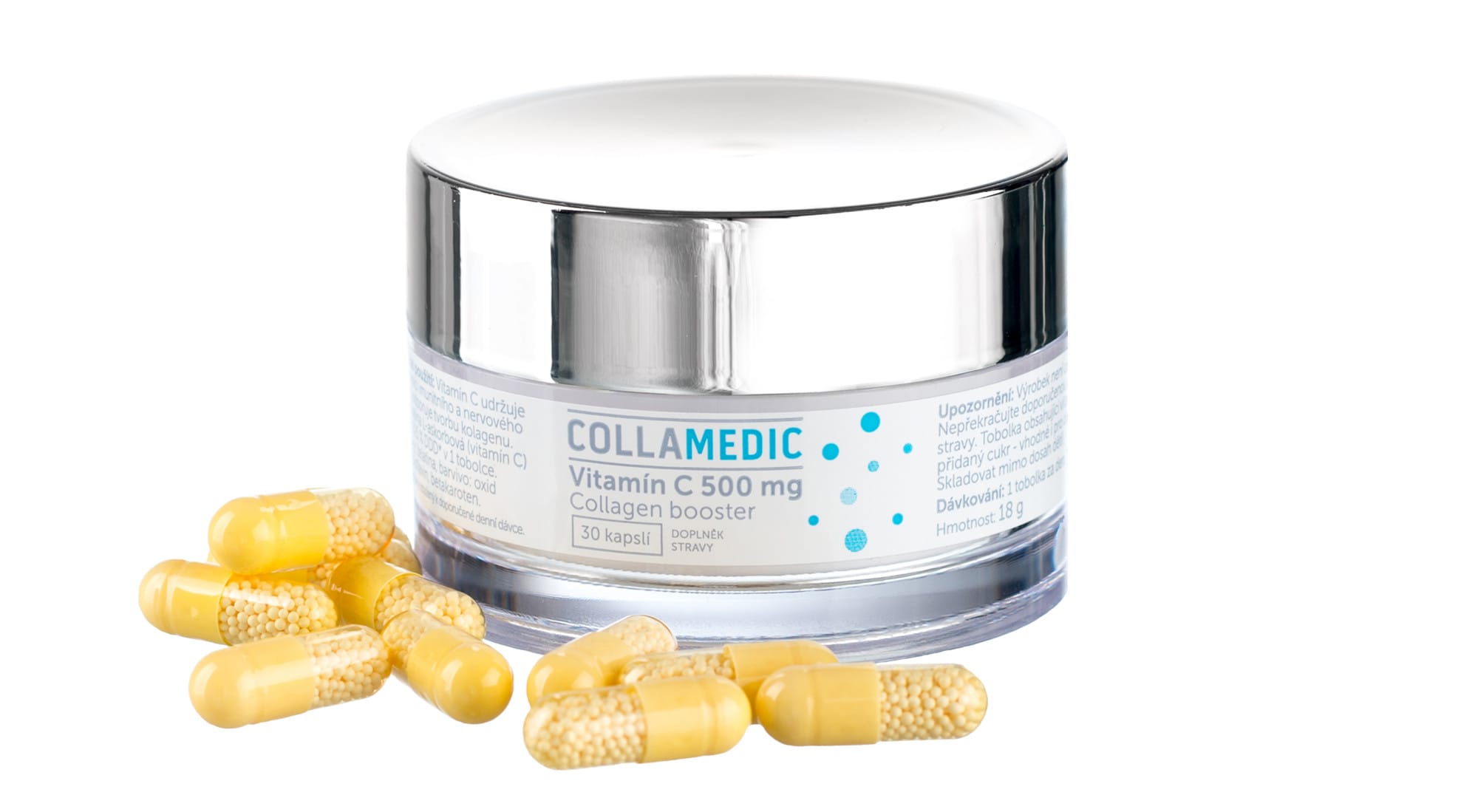 Why is it the COLLAMEDIC® bioactive marine collagen?
COLLAMEDIC® marine collagen is a pure natural product without added preservatives, flavourings and colours. The source of collagen is the crystal clear waters of the North Atlantic Ocean (Norwegian region). Fishing there takes place under strict rules of sustainable development. The product is GMO free (i.e. it does not contain any genetically modified organisms), and its production comes after the use of fish for the food industry. This is a very sensitive environmental approach.
Dosage and use
Divide four capsules into two daily doses and drink a sufficient amount of water with them. It is recommended to use the capsules together with COLLAMEDIC 5000 mg collagen powder to support the effects of the collagen cure.
Composition (daily dose – 4 capsules)
Hydrolysed collagen (fish product) 1000 mg.
Hyaluronic acid 200 mg.
Anti-caking agent
Magnesium stearate
Capsule shell: gelatin and colouring agent (titanium dioxide)
Contents of the pack
Caution
This product is not intended as a substitute for a varied diet.
The product is not suitable for children under 3 years of age.
The product is not suitable for pregnant women (collagen is a body-beneficial protein of a natural origin. However, during pregnancy and breast-feeding, you should consult your doctor.)
Do not exceed the recommended daily dose.
Keep out of reach of children.
Store in a dry, dark place at 4-25 °C.
Protect the product from direct sunlight.
Content weight: 51 g.
Country of origin of raw material: Norway.