COLLAMEDIC luxury 3-in-1 collagen set
A complete intense anti-wrinkle cure (drink, capsules, serum). A cure for beautiful wrinkle-free skin, strong hair and nails. Buy a set to save 280 CZK and get a GIFT: 1x Vitamin C + FREE delivery.
The set includes complete cure for wrinkle-free skin, beautiful hair and nails. It consists of a collagen drink in powder, a hyaluronic acid capsule, rejuvenating serum and vitamin C to promote the actual formation of collagen.
Description
An intense rejuvenating cure for the skin that:
needs fast and effective reinforcement and hydration at a high level,
has suffered severe strain (stress, illness).
We recommend starting with the luxury set to ensure rapid collagen restoration. After this intense monthly cure, it is possible to switch to COLLAMEDIC® collagen powder and to continue the collagen therapy preferably for 3 months.
After this period, clients note:
skin improvement (facial contours strengthening, wrinkles),
hair strengthening, growth acceleration, better hair style hold,
nail strengthening and growth acceleration (return to natural nails from gel ones),
cellulitis mitigation (due to skin strengthening).
The set includes food supplements and cosmetics
COLLAMEDIC® collagen powder 5000 mg – 30 sachets
COLLAMEDIC® hyaluronic acid capsules – 120 capsules
COLLAMEDIC® collagen serum – 50 ml
VITAMIN C 500 mg time release, 30 capsules, Collagen Booster (119 CZK, for free)
Use We recommend dividing the hyaluronic capsules into two daily doses (i.e. 2 capsules in the morning and 2 in the evening). The collagen drink (powder in sachets) can be prepared at any time during the day or drunk with the capsules. Vitamin C can be accompanied with both the drink and the hyaluronic capsules. Use one capsule per day.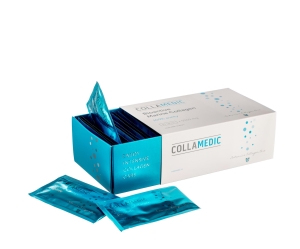 COLLAMEDIC® marine collagen drink is a premium product, which with its 5000 mg of fish collagen in a daily dose is one of the strongest products on the Czech market. The collagen peptides effectively smooth fine lines, soften deep wrinkles, ensure hair strength and shine and promote healthy long nails.
Extensive clinical tests have resulted in a 34.8% improvement in skin hydration.
The pack contains 30 sachets of collagen powder. Stir the contents of one sachet (5000 mg of collagen peptides) slowly into 2 – 3 dcl of drinking water or flavoured cold drink. It is important to let the drink sit for 3-5 minutes to allow the collagen to dissolve completely. Stir briefly before drinking. There is no set time when to take the drink.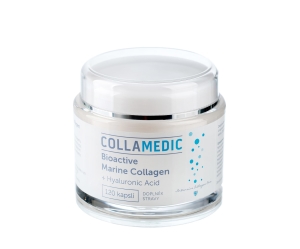 Premium capsules of COLLAMEDIC® bioactive marine collagen with hyaluronic acid used in combination with collagen powder drink significantly help to improve the condition of skin, hair and nails.
The interaction of fish marine collagen with hyaluronic acid has extremely rejuvenating effects on skin. Collagen and elastic fibres get stronger, skin stretches, wrinkles are softened. Clinical trials with ExceptionHYAL® Star have shown that the use of this substance reduces small wrinkles by 20.8 % and deep wrinkles by 21 %. Skin hydration improved by 9.6 %.
Divide 4 capsules into two daily doses and take with sufficient liquid. The daily dose contains 1000 mg of hydrolysed marine collagen and a strong dose of hyaluronic acid (200 mg).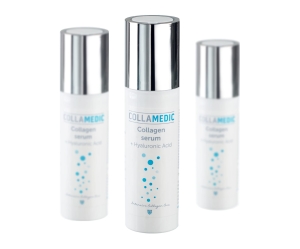 For a perfect result of the collagen treatment it is advisable to support the internal use of collagen with a skin serum specially developed to reduce wrinkles, improve elasticity and overall skin brightening. The fine gel-like texture ensures a fresh soft feeling on the skin, which is accompanied by a subtle unobtrusive fragrance.
COLLAMEDIC® anti-age collagen serum is a combination of the results of biotechnological research and natural active ingredients. The serum is based on marine bioactive collagen and hyaluronic acid of different molecular weights to hydrate the deep layers of the skin. Rapid regeneration is further supported by clinically proven ingredients such as coenzyme Q10, peptides, squalene and argan oil.
With this set COLLAMEDIC® you get as a gift a one-month Vitamin C 500 mg gradually dissolving cure worth 119 CZK FREE. Vitamin C plays an important role in the development of the body's own collagen. Thanks to using COLLAMEDIC® booster capsules manufactured with special microporous technology, the body is supplied with vitamin C continuously and uses it more efficiently.