COLLAMEDIC collagen serum 50 ml
Light serum for wrinkles containing strong collagen concentration, hyaluronic acid and a range of dermatologically tested anti-aging substances. GIFT: Vitamin C, 30 capsules
COLLAMEDIC® collagen anti-aging serum, specially developed based on biotechnological research from natural active substances for skin control and reduction of wrinkles. Highly active collagen increases elasticity and overall skin brightening.
Description
COLLAMEDIC® collagen serum containing natural active substances specifically designed to reduce wrinkles, improve elasticity and overall skin brightening. A soft, gel texture ensures a fresh smooth skin feel accompanied with a fine non-intrusive scent. Regular application of skin serum with marine bioactive collagen, hyaluronic acid, Q10 coenzyme, peptides, and other active substances such as squalene and argan oil reduces wrinkles and smoothes the skin.
For effective skin support, serum should be used as a supplement to the internal use of collagen from COLLAMEDIC® food supplements.
Active substances in COLLAMEDIC® skin serum:
Low molecular hyaluronic acid
It increases the water content of your skin helping to keep it smooth and soft. The beneficial effects of hyaluronic acid include effective hydration, recovery, skin protection, and smoothing of wrinkles. It effectively blocks free radicals, prevents the formation of new wrinkles. It significantly corrects problem skin. The low molecular weight of hyaluronic acid is also an important parameter for the hydration of the deep layers of skin. This produces the complete skin balance. The skin nourished like this does not have flakes, cracks, or excessive oil (i.e. the formation of acne is limited).
Collagen
The combination of three types of collagens (different molecular weights) ensures skin elasticity and rigidity by increasing the number of collagen fibres in skin. Fresh, flexible skin has no tendency to form wrinkles.
Magnesium Ascorbyl Phosphate – a stable form of vitamin C
It promotes the ability of skin to prevent harmful effects from outside.
Its presence helps collagen to form in skin, it has bleaching effects.
Elfamoist®
A highly active substance that improves skin hydration for up to 30 hours to help prevent aging.
Atecoron Plus®
A biotechnological combination of highly effective atelocollagen and hyaluronic acid ensures the hydration of all skin layers and induces skin balance and thereby reinforcing and rejuvenating skin. The substance also reduces inflammatory processes in skin.
Lift Oleoactif®
A herbal extract with a coenzyme Q10 and vitamin E with a lifting effect.
SpecPed® AO3P
A substance that helps to remove deep wrinkles on the forehead and around the eye.
With each COLLAMEDIC® package, you get a free monthly dose of  Vitamin C 500 mg gradually dissolving worth 119 CZK. Vitamin C plays an important role in the development of the body's own collagen. Thanks to using COLLAMEDIC® booster capsules manufactured with special microporous technology, the body is supplied with vitamin C continuously and uses it more efficiently.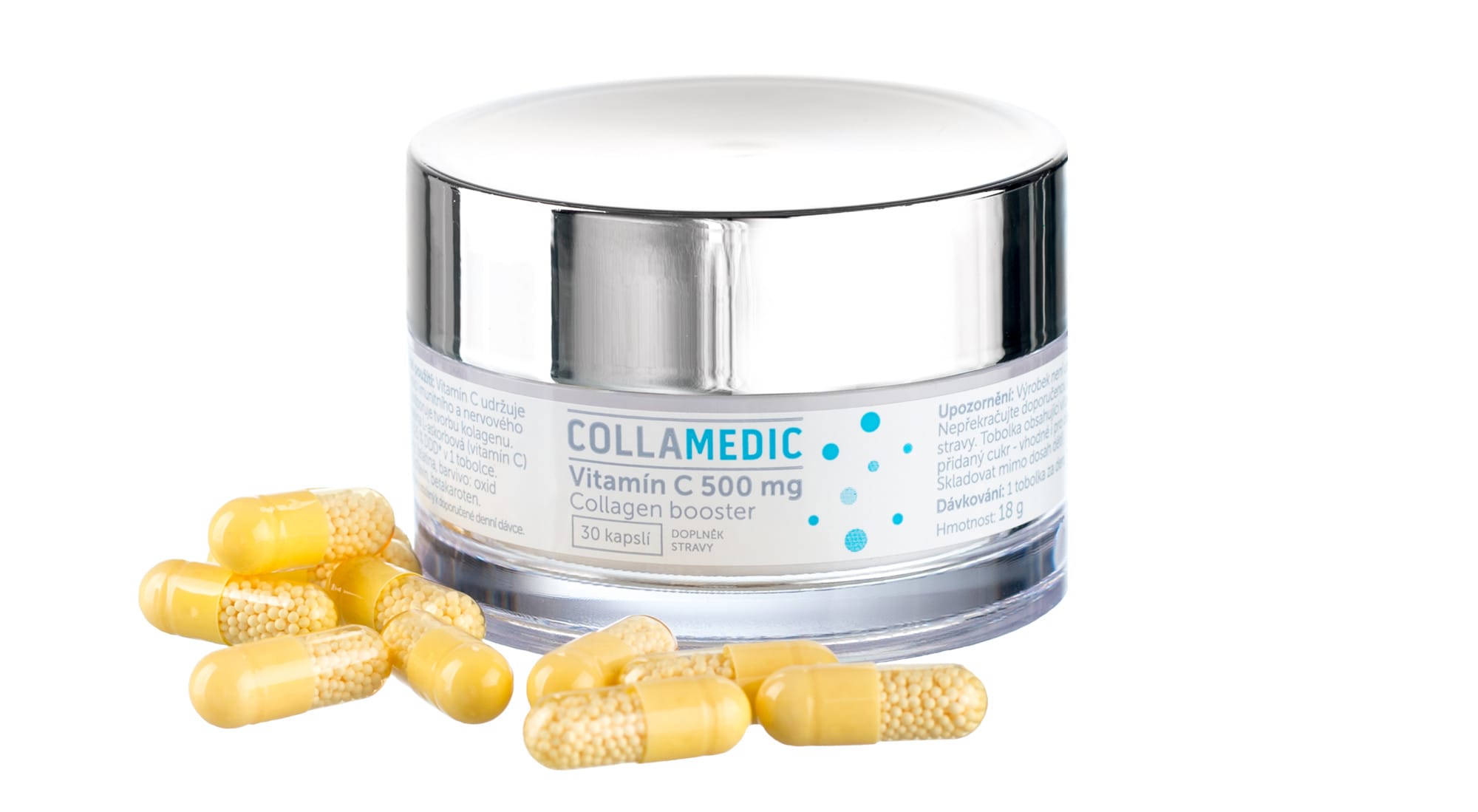 Why is it the COLLAMEDIC® bioactive marine collagen?
COLLAMEDIC® marine collagen is a pure natural product without added preservatives, flavourings and colours. The source of collagen is the crystal clear waters of the North Atlantic Ocean (Norwegian region). Fishing there takes place under strict rules of sustainable development. The product is GMO free (i.e. it does not contain any genetically modified organisms), and its production comes after the use of fish for the food industry. This is a very sensitive environmental approach.
Dosage and use
Apply in the evening to a perfectly clean skin. Massage in a circular motion until the serum is absorbed. It is recommended that the skin serum is used in combination with COLLAMEDIC 5000 mg collagen powder and COLLAMEDIC® hyaluronic acid capsules to maximize the effects of the collagen cure.
Ingredients
Aqua, Caprylic/Capric Triglyceride, Acetamidoethoxyethanol, Sodium Acrylates Copolymer, Glycerin, Magnesium Ascorbyl Phosphate, Hydrolyzed Collagen, Soluble Collagen, Atelocollagen, Lecithin, Argania Spinosa Kernel Oil, Phenoxyethanol, Sodium Citrate, Sodium Hyaluronate, Carthamus Tinctorius Seed Oil, Spilanthes Acmella Flower/ Leaf/ Stem Extract, Astragalus Membranaceus Root Extract, Ubiquinone, Tocopherol, Acetyl Octapeptide-3, Beta-Sitosterol, Squalene, Propyl Gallate, Ascorbyl Palmitate, Propylene Glycol, Hydrogenated Vegetable Glycerides Citrate, Sodium Chloride, Parfum, Benzyl Alcohol, Dehydroacetic Acid, Benzoic Acid
Contents
Caution
Dermatologically tested and approved.
Use until the date indicated on the package.
Keep out of reach of children.
Store at 5-25 °C.
Protect the product from direct sunlight.
The serum does not contain parabens and silicones.