COLLAMEDIC special offer set of collagen powder + capsules + body milk
An intense month-long cure of collagen drink, hyaluronic capsules, and valuable GIFTS: 1x body milk worth 249 CZK, 1x Vitamin C + free delivery.
The set includes a complex month-long skin rejuvenating cure. Thanks to collagen drink and hyaluronic capsules, you get 6000 mg of collagen and 200 mg of hyaluronic acid per day. It is the best way to smooth wrinkles and fix your hair and nails. The set also includes a month-long dosage of vitamin C 500 mg with time release which promotes the actual formation of collagen.
Description
An intense rejuvenating cure for the skin that:
– needs fast and effective reinforcement and hydration at a high level,
– has suffered severe strain (stress, illness).
The set contains a month-long complete skin cure
1x COLLAMEDIC® collagen powder 5000 mg – 30 sachets
1x COLLAMEDIC® hyaluronic acid capsules – 120 capsules
1x COLLAMEDIC® body milk 300 ml (gift)
1x VITAMIN C 500 mg time release, 30 capsules, Collagen Booster (free)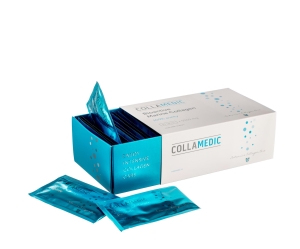 With its content of 5000 mg of fish collagen in a daily dose, COLLAMEDIC® bioactive marine collagen sachets is a premium product belonging amongst the strongest products on the Czech market. Collagen peptides effectively smooth fine wrinkles, soften deep wrinkles, ensure hair strength and shine, and promote healthy long nails. Extensive clinical trials resulted in an improvement in skin condition from the perspective of hydration by 34.8 %.
Empty the contents of one sachet (5000 mg of collagen peptides) into 2-3 dcl of drinking water or cold soft drinks while stirring. It is important to let the drink stand for 3-5 minutes to ensure that collagen is completely dissolved. Stir briefly before drinking. There is no timing for taking the drink.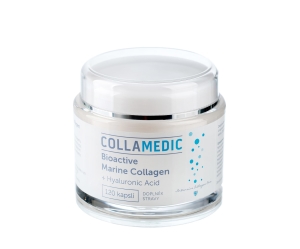 Premium capsules of COLLAMEDIC® bioactive marine collagen with hyaluronic acid used in combination with collagen powder drink significantly help to improve the condition of skin, hair and nails.
The interaction of fish marine collagen with hyaluronic acid has extremely rejuvenating effects on skin. Collagen and elastic fibres get stronger, skin stretches, wrinkles are softened. Clinical trials with ExceptionHYAL® Star have shown that the use of this substance reduces small wrinkles by 20.8 % and deep wrinkles by 21 %. Skin hydration improved by 9.6 %.
Divide four capsules into two daily doses and drink a sufficient amount of liquids with them. The daily dose contains 1000 mg of hydrolysed marine collagen and a strong dose of hyaluronic acid (200 mg).
It is recommended taking 2 Collamedic capsules + 1 vitamin C capsule in the morning and taking 2 Collamedic capsules with collagen powder drink in the evening. The rules of use can be freely adapted.
<!–
COLLAMEDIC® Body Milk 300 ml
Kolagenové tělové mléko s obsahem kyseliny hyaluronové pro hebkou a pružnou pokožku celého těla. COLLAMEDIC Body Milk se skvěle doplňuje s COLLAMEDIC kolagenovými doplňky stravy. Pravidelná aplikace účinně posiluje vnitřní i vnější vrstvy kůže, předchází vzniku vrásek, zmírňuje projevy celulitidy a zamezuje vzniku strií.
Aktivní látky obsažené v COLLAMEDIC® Body Milk
Kolagen
Kombinace tří druhů kolagenu (rozdílných molekulových hmotností) zajišťuje elastičnost a pevnost pokožky zvýšením počtu kolagenních vláken v pleti. Svěží a pružná pokožka nemá tendence ke vzniku vrásek.
Kyselina hyaluronová
Zvyšuje obsah vody v pleti, přičemž ji pomáhá udržovat hebkou a hladkou. Blahodárné účinky kyseliny hyaluronové zahrnují účinnou hydrataci, regeneraci, ochranu pokožky a vyhlazení vrásek. Účinně blokuje volné radikály, zabraňuje vzniku a nových vrásek. Výrazně koriguje problémové projevy pleti. Nízká molekulární hmotnost kyseliny hyaluronové je také důležitým parametrem pro hydrataci hlubokých vrstev pokožky. Dochází zde k navození kompletní rovnováhy pleti. Takto vyživená pleť nemá šupinky ani prasklinky.
Elfamoist®
Vysoce účinná látka, která zlepšuje hydrataci pokožky až po dobu 30 hodin a pomáhá tak předcházet jejímu stárnutí.
Atecoron Plus®
Biotechnologická kombinace vysoce účinného atelokolagenu a kyseliny hyaluronové zajišťuje hydrataci všech vrstev pokožky a navozuje rovnováhu pleti, čímž dochází k jejímu zpevnění a omlazení. Látka také redukuje zánětlivé procesy v pleti.
Tego® Stemlastin
Výtažek z mořských řas, který výrazně bojuje se stárnutím kůže. Díky pozitivnímu vlivu na elastická vlákna v pleti posiluje její pružnost a pevnost. Pomáhá chránit epidermální kmenové buňky, čímž zachovává mladiství vzhled pokožky.
Bambucké máslo, Jojobový a mandlový olej
Vysoce pečující složky v podobě přírodních olejů zajišťují komfort pleti a pocit příjemné rovnováhy pokožky po celém těle.
Informace pro osoby alergické na tyto složky: tělové mléko je bez parabenů a silikonů.
Složení
Aqua, Prunus Amygdalus Dulcis Oil, Butyrospermum Parkii Butter, Caprylic/Capric Triglyceride, Cetearyl Alcohol, Glyceryl Stearate Citrate, Acetamidoethoxyethanol, Ethylhexyl Stearate, Glyceryl Stearate, Simmondsia Chinensis Seed Oil, Glycerin, Hydrolyzed Collagen, Coffea Arabica Seed Extract, Sodium Hyaluronate, Atelocollagen, Algae Extract, Soluble Collagen, Carbomer, Hydrolyzed Gelatin, Sodium Chloride, Phenoxyethanol, Ethylhexylglycerin, Tocopherol, Sodium Citrate, Sodium Benzoate, Potassium Sorbate, Parfum, Sodium Hydroxide
K této sadě COLLAMEDIC® dostáváte jako dárek měsíční kůru Vitamínu C 500 mg s postupným užíváním v hodnotě 119 Kč ZDARMA. Vitamín C má důležitou roli v organismu a podporuje tvorbu kolagenu v těle.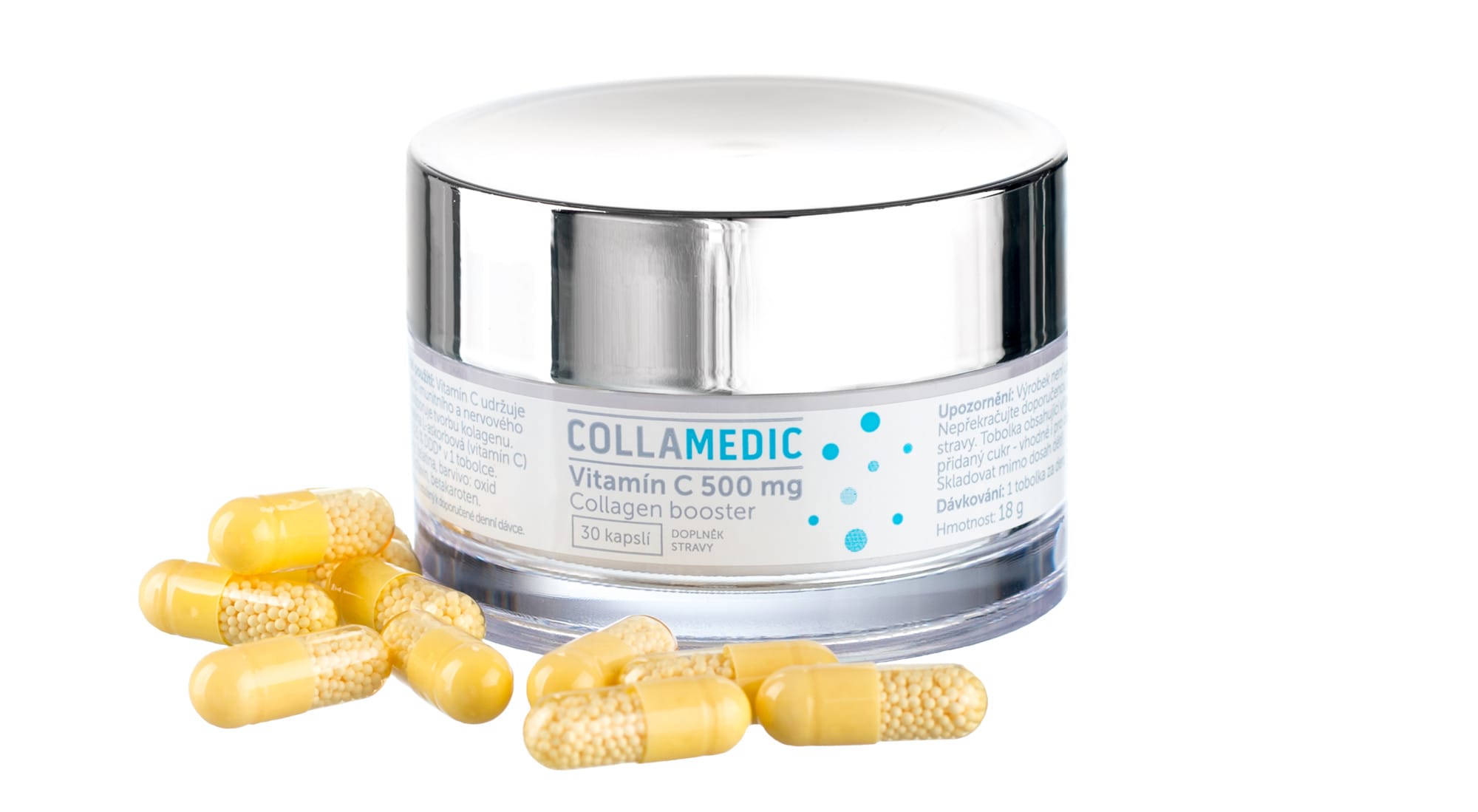 –>